THE SOUND OF POWER EXTREME BUST SPEAKERS
The Sound of Power (SOP) series is a tribute to the porcelain figurines and the busts our grandparents loved to collect. Glossy white men and flawlessly carved maidens reminded us of something bigger, than our ordinary lives and inspired to greatness.
The Sound of Power is a contemporary reincarnation of these classical objects combining striking visual and audio qualities. SOP is a completely new genre of both busts and speakers. The series will feature powerful people who, in their own way, played the world like instruments and made countries and continents alike march to the beat of their metaphorical drums. Created in Russia and handcrafted in Sweden these bust speakers a true pieces of useful art and collectors item.
The latest releases are Donald Trump AKA Donald the Great and Pablo Escobar AKA Uncle Pablo. Previous releases: Margaret Thatcher AKA Maggie, Kim Jong-Un AKA Kim Sunshine Vladimir Putin, AKA St. Vladimir.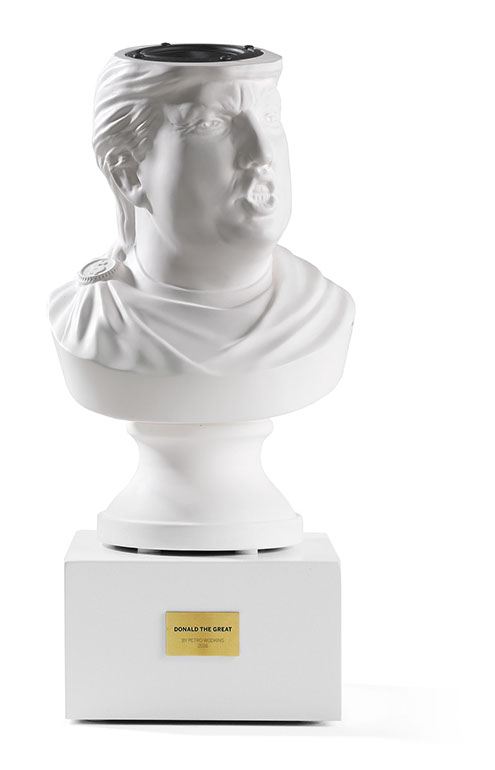 CREATED IN RUSSIA HANDCRAFTED IN SWEDEN
Manufacturing SOP bust speakers is a slow and demanding process. Each piece is individually casted and polished to perfection.
When the driver is installed each SOP undergoes a careful inspection and testing before numbered and signed. Even the amplifier which serves as the SOP stand is handcrafted. The level of craftsmanship in SOP production is as high as it's made for art exhibition.
CLASSICAL BUSTS NOW SERVE AS MONO BLUETOOTH SPEAKERS. MEET SOUND OF POWER.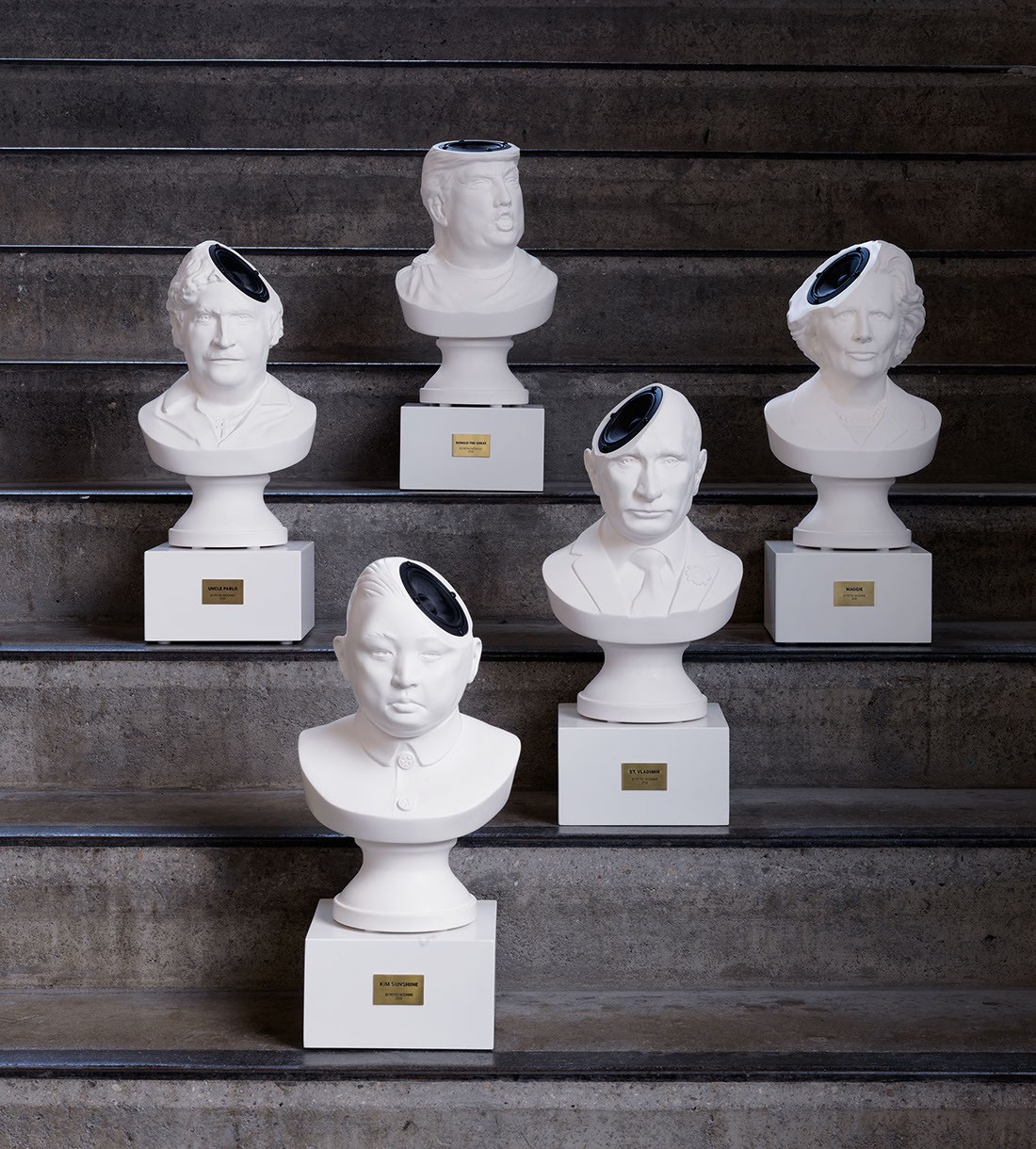 SPECIFICATIONS
"Vladimir Putin has
never sounded this good"
The SOP Bust speaker is made of durable and marble like composite material. Equipped with a full range 4" driver and built in base reflex
The SOP bust speaker offers distinct performance and sound clarity. The wooden SOP stand also serves as a bluetooth 20W amplifier. Gold like connectors and textile audio cords make SOP experience pleasant both visually and acoustically.
THE SOP BUST SPEAKER
Height: 37 cm / 14.6 inches
Width: 23 cm / 9 inches
Weight: 3.3 kg / 7 lbs 4 oz
THE SOP AMPLIFIER
Measurements 19 x 19 x 11 cm / 7.5 x 7.5 x 4.3 inches
Weight: 1.2 kg / 2 lbs 10 oz
The Sound of Power sound system can be combined with different model to create a unique setup.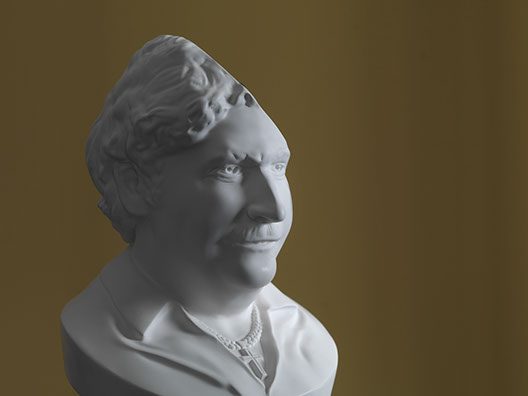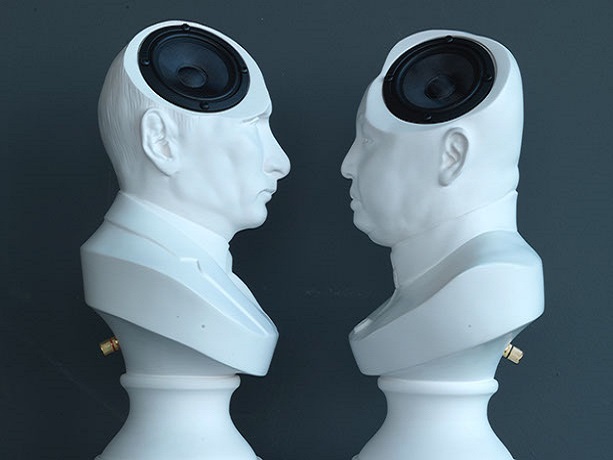 THE SOP ST VLADIMIR AUCTION IS OVER
Number 1 and number 100 St. Vladimir SOP pieces were auctioned out.
The Auction ended October 7th on Mr. Putin's 63rd. birthday. The final price for Number 1 was €6,500 and number 100 was sold for €4,200.

You still have the opportunity to buy your St. Vladimir SOP speaker from the first edition.
THE 60 SECOND VERSION OF PETRO WODKINS
Petro Wodkins is an artist and performer known worldwide for a series of art happenings that have been covered by global media. His name is a pseudonym that derives from the Russian artist Kuzma-Petrov-Vodkin.
His date of birth and background are uncertain.
THE ART OF PETRO WODKINS
Petro Wodkins works within the borderlands and intersections. His scope includes: Performance art, New media art, Street art, Sculpture, Photography, Video, Design, Music, Satire and Social commentary. Some of his popular themes are perception of beauty, exploring power, and media. SOP series is his first attempt to develop the concept of usefull art. A significant and recurring aspect of Petro Wodkins art is that it's using communicational platforms not only as an amplifier, but also as the stage where he presents his art, a broadcaster for his art.
Read more.
Photo Hviid Photography
Copyright Petro Wodkins 2015
Order your speaker right now!