It's something more than just a speaker.
It's a new standard of the sound sensation.
Let's imagine a situation when listening music in the background
turns to a ritual. It creates a special atmosphere.
The Sound of Power (SOP) series is a tribute to the porcelain figurines and the busts our grandparents loved to collect. Glossy white men and flawlessly carved maidens reminded us of something bigger, than our ordinary lives and inspired to greatness. The Sound of Power is a contemporary reincarnation of these classical objects combining striking visual and audio qualities.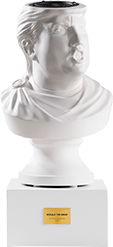 SOP is a completely new genre of both busts and speakers. The series will feature powerful people who, in their own way, played the world like instruments and made countries and continents alike march to the beat of their metaphorical drums. Created in Russia and handcrafted in Sweden these bust speakers a true pieces of useful art and collectors item.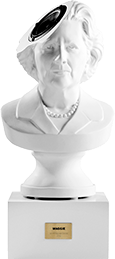 An absolutely new
sensation of your
interior
Most probably you've tried one of our desktop speakers on the
interior and noticed that the option will revamp the atmosphere at
your home. Try to imagine how your friends will react when they see
magnificent bust, which rules the world right at your desktop.
The Sound of Power sound system can be combined
with different model to create a unique setup
Explore your ideal pair for the creation of unique sound
independent from particularities of your interior.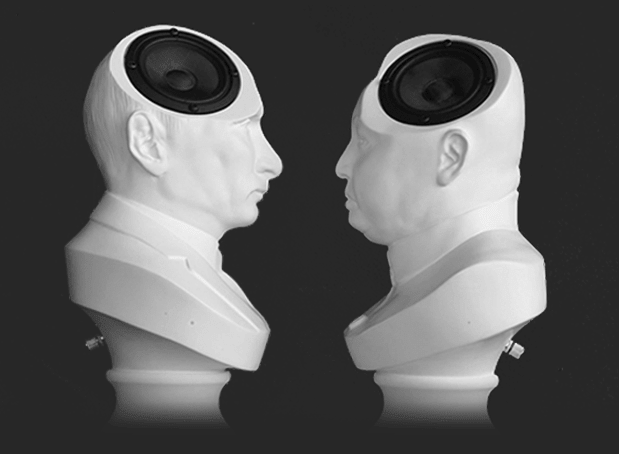 Get all the music out of your head.
Let another type of head to take care of it.
The SOP Bust speaker is made of durable and marble like composite material.
Equipped with a full range 4" driver and built in base reflex.
The SOP bust speaker offers distinct performance and sound clarity. The wooden SOP
stand also serves as a bluetooth 20W amplifier. Gold like connectors and textile
audio cords make SOP experience pleasant both visually and acoustically.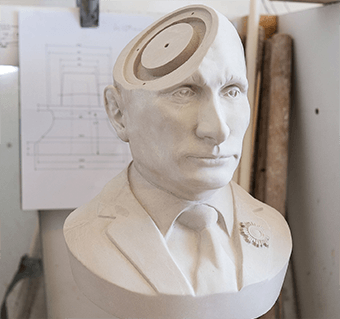 THE SOP BUST SPEAKER
Height: 37 cm / 14.6 inches
Width: 23 cm / 9 inches
Weight: 3.3 kg/ 7 lbs 4 oz
THE SOP AMPLIFIER
Measurements: 19 x 19 x 11 cm
7.5 x 7.5 x 4.3 inches
Weight: 1.2 kg/2 lbs 10 oz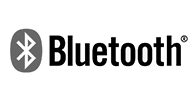 Support of Bluetooth connection
Handy and conventional for everyone's management
of any music right away from your smartphone
or another device equipped with Bluetooth.
What allows the speaker to play the world
The SOP bust is equipped with a high Quality Norwegian Driver, the FU10RB is an 4" full range driver. New Curv cone, a woven polypropylene with internal damping together with perfectly matched moving parts give a smooth, extended frequency response.
The large, open weave fabric spider reflects very little acoustic energy to the cone, and offers excellent stiffness linearity. A stiff and stable injection moulded aluminum chassi keeps the critical components in perfect alignment. The pole piece is prolonged forwards and equipped with a deep drawn copper cap to ensure excellent linearity in the force factor and coil inductance.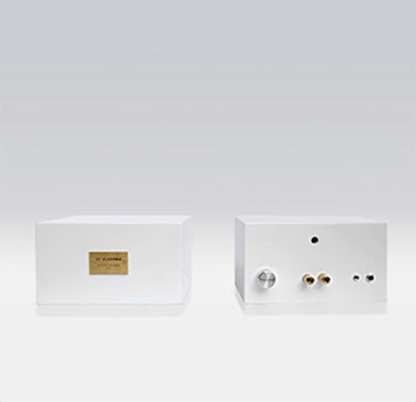 Fitted in a wooden handmade case, the SOP 20W amplifier is single channel output and equipped with Bluetooth.
A 3.5 AUX textile cable included as well as the audio cords for the banana connectors. The SOP amplifier is designed to function as a perfect stand for the SOP bust speaker.
Amplifier included.
| | | | |
| --- | --- | --- | --- |
| Nominal Impedance | 4 Ohms | Voice Coil Resistance | 3.3 Ohms |
| Recommended Frequency Range | 100 - 20000 Hz | Voice Coil Inductance | 0.29 mH |
| Short Term Power Handling* | 100 W | Force Factor | 2.72 N/A |
| Long Term Power Handling* | 40 W | Free Air Resonance | 102 Hz |
| Characteristic Sensitivity (2,83V, 1m) | 85 dB | Moving Mass | 4.5 g |
| Voice Coil Diameter | 19 mm | Air Load Mass In IEC Baffle | 0.14 g |
| Voice Coil Height | 8 mm | Suspension Compliance | 0.5 mm/N |
| Air Gap Height | 4 mm | Suspension Mechanical Resistance | 0.85 Ns/m |
| Linear Coil Travel 9 (p-p) | 4 mm | Effective Piston Area | 38.5 cm2 |
| Maximum Coil Travel (p-p) | 7.9 mm | VAS | 1 Litres |
| Magnetic Gap Flux Density | 0.9 T | QMS | 3.15 |
| Magnet Weight | 0.09 kg | QES | 1.28 |
| Total Weight | 0.36 kg | QTS | 0.91 |
The frequency responses above show measured free field sound pressure in 0,30, and 60 degrees angle using a 2.5L closed box. Input 2.83 VRMS, microphone distance 0.5m, normalized to SPL 1m. The dotted line is a calculated response in infinite baffle based on the parameters given for this specific driver. The impedance is measured in free air without baffle using a 2V sine signal.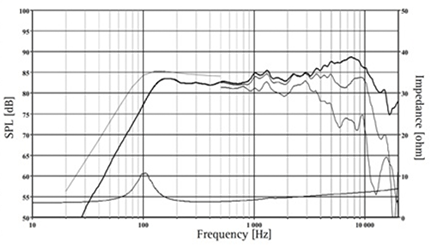 CREATED IN RUSSIA
HANDCRAFTED IN SWEDEN
Manufacturing SOP bust speakers is a slow and demanding process. Each piece is individually casted and polished to perfection.
When the driver is installed each SOP undergoes a careful inspection and testing before numbered and signed. Even the amplifier which serves as the SOP stand is handcrafted.
The level of craftsmanship in SOP production is as high as it's made for art exhibition.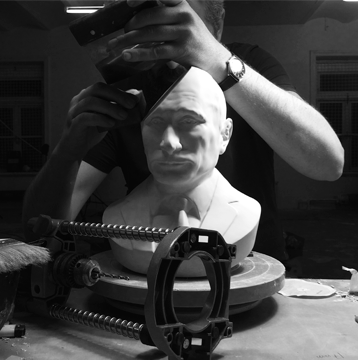 CHOOSE YOUR SPEAKER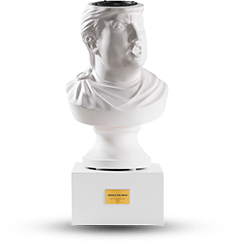 Donald Trump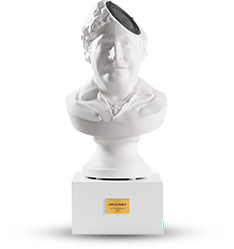 Pablo Escobar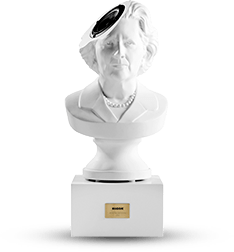 Margaret Thatcher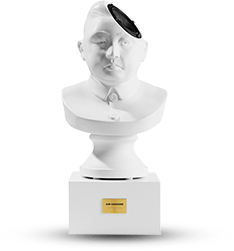 Kim Jong-Un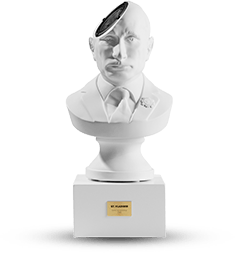 Vladimir Putin
ORDER YOUR OWN SOP SPEAKER TODAY.
LIMITED EDITION OF 100 PIECES PER MODEL.
SOLD ON FIRST COME, FIRST SERVED BASIS.
Sound of Power Bust speakers are numbered and signed. Including an amplifier sewing as a stand and a complete setup of audio cords. The electrical plug is type C (Europe).
PRICE:
2220 €
1520 €
Shipping not included. + 250€ by

.
Free worldwide shipping!
Note that we will not handle any credit card information, this information will be handled by a third-party billing systems.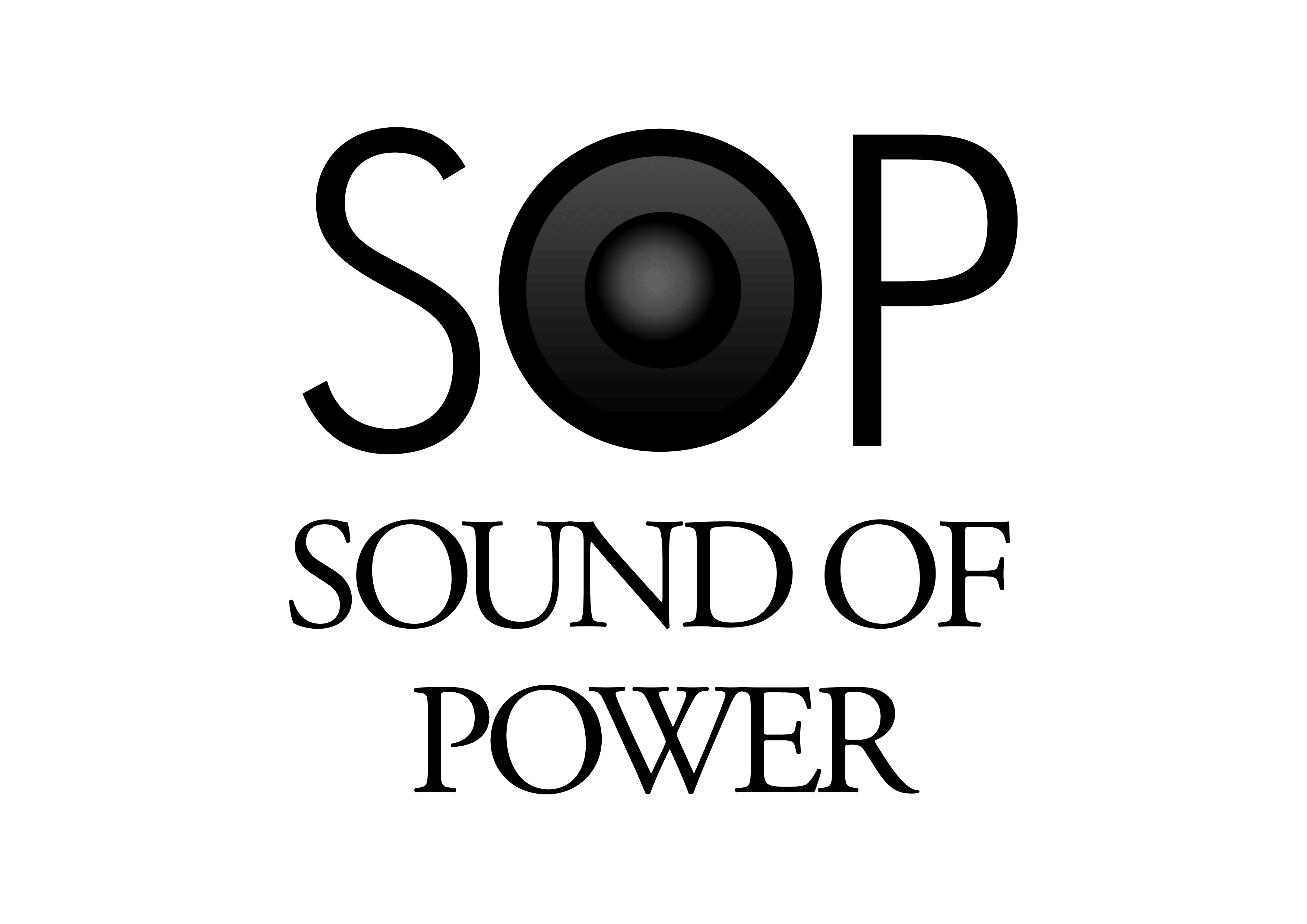 GET IN TOUCH
DROP SOP A LINE
THE 60 SECOND VERSION
OF PETRO WODKINS
Petro Wodkins is an artist and performer known worldwide for a series of art happenings that have been covered by global media. His name is a pseudonym that derives from the Russian artist Kuzma-Petrov-Vodkin.
His date of birth and background are uncertain.
THE ART OF PETRO WODKINS
Petro Wodkins works within the borderlands and intersections. His scope includes: Performance art, New media art, Street art, Sculpture, Photography, Video, Design, Music, Satire and Social commentary. Some of his popular themes are perception of beauty, exploring power, and media. SOP series is his first attempt to develop the concept of usefull art. A significant and recurring aspect of Petro Wodkins art is that it's using communicational platforms not only as an amplifier, but also as the stage where he presents his art, a broadcaster for his art.